V is known for his unique fashion style and his obsession with the brand, Gucci. Let's just see what this Gucci king is missing in his closet at home! Links to purchase items included.
You'll be surprised how much Gucci this guy has once you finish this article! But most importantly, what doesn't he have?
Scroll to the bottom for the TOTAL QUANTITY & COST of his GUCCI GEAR!!
In no particular order…. Let's get started!
1. Eyeweb Goggles:  $195 (SOLD OUT)
He sported these awesome goggles on 150701 on MBC Show Champion. Who cares if he is going skiing, he looks adorable!
2. Checked Wool and Alpaca Blend Cardigan: $1,270
Those darn airports can get chilly. A cozy Gucci cardigan is a must-have and a perfect fan gift!
3. Cotton Polo with applique: $690
A simple polo for a night out with fellow Hwarang actor, Park Hyunsik. Are they sharing a honeydew? I smell bromance….
4. Bracelet with Interlocking G Charm: $250
This Gucci bracelet has made appearances on V lives, BTS Gayo Tracks, on stage, and in airports! V doesn't forget to accessorize.
5.  Check Jersey Embroidered Sweatshirt: $2,695 (SOLD OUT)
Embroidered patches were a huge trend in 2016. Our fashionista wore this sweatshirt during the Young Forever photo shoot in April.
6. Navy Tiger Zip-Up Sweater: $1,380
Fans know how to keep him smiling. Gucci is the way to this man's heart.
7. Ring with Swarovski crystals: $295
To pair with his tiger sweater, the fans did not forget a sparkly accessory. Peace out 
8. Tiger charm in silver: $170
One does not go to New York without hitting up some stores for shopping! This necklace looks so good on him.
9. Leather Horsebit slipper: $650
Raise your hand if you hate taking off your shoes at the airport! V is a huge fan of slip on shoes!
10. Jordaan Leather Loafer: $695
These loafers must be comfy since he wore them in several BTS Gayo Tracks!
11. Jeans With Embroidered Butterfly: $673 (SOLD OUT)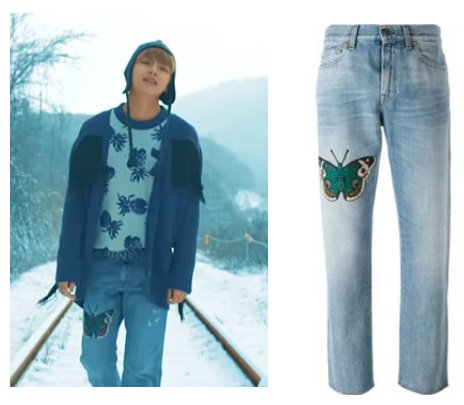 There are some theories flying around as to why he wore these jeans in the Spring Day MV….What could this lone butterfly represent?
12. Tiger-Head Embossed Backpack: $2,390 (SOLD OUT)
On his way to KBS Music Bank filming in the early morning. I wonder what is he has in there?
It was no surprise that he attended the Hwarang press conference as a real life flower boy.
14. Rectangular Frame Acetate Sunglasses: $385
Doesn't he look fabulous in glasses?!
15. Leather Bomber with Embroideries: $3,750
Taehyung + Gucci = Airport Fashion
16. Tiger Underknot Silk Tie: $200
You could say this item "ties" up the whole outfit…..
17. Jordaan Houndstooth Loafer: $625 (SOLD OUT)
I'm not sure if I was more impressed with V's saxophone performance or his awesome shoes on MBC's Star Show 360.
18. Le Marche des Merveilles watch: $1,100
Would you look at the time? V has made many appearances wearing this watch.
19. Oxford Duke Shirt with Snake: $595
Airport fashion is nothing without a little Gucci. V also wore this same shirt to Jungkook's graduation.
*BONUS PIC*
20. Snake Print Leather Duffle: $2,390
With his crazy travel schedule, it's obvious he needs to have a Gucci carry-on bag!
21. Black Snake iphone Case: $320
Can this guy be anymore extra with his Gucci phone case? We didn't know the extent of his obsession until we saw his case in his V live.
Guys, slip on shoes are the best choice for the airport.
23. Bee Jacquard Oxford Duke shirt: $720
Sporting a complete Gucci look for the You Never Walk Alone Comeback V live!
24. Wool Sweater with Panther Intarsia: $1,100
"Jungkook, did you know my sweater is Gucci too?"
25. Princetown Leather Slipper with Snake: $995
Here we go again with the slippers! Fans just don't understand why he keeps wearing these ugly shoes, but let's be honest they look comfy!
26. Signature Messenger: $1,690
What do you guys think about guys wearing these side bags? I guess V needs to put his personal items somewhere convenient!
The next three items are from the You Never Walk Alone photo shoot:
27. Embellished Cotton Jersey T-Shirt: $640 (SOLD OUT)
28. Striped Knit Hand Warmer Gloves: $195
29. Ace Low-Top Sneaker with Flames: $695
30. 18K White Gold Diamond Floral Choker Necklace: $24,500
This piece is my personal favorite. Big Hit has no problem dropping the Big bucks on BTS' stage outfits. V surprised fans wearing this choker during The Wings Tour!
31. Silk Cambridge Shirt with Scarf: $880
This shirt gave his Blood, Sweat, and Tears outfit a pop of color…. I love it.
32. Floral Print Shirt: $475 (SOLD OUT)
Nothing says sophistication like Gucci does.
33. Velvet Corduroy Jacket: $3,765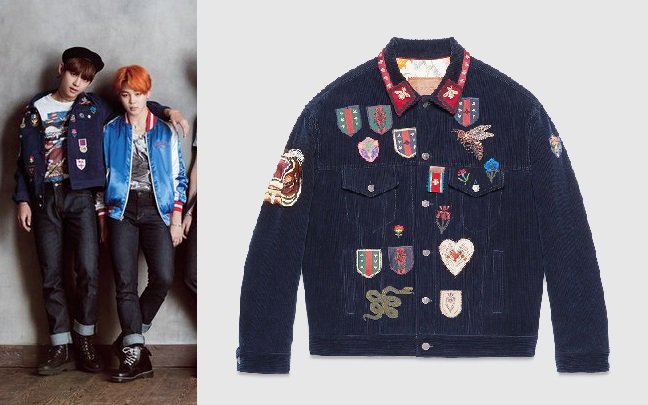 V wore this patch-filled jacket for the Run (Japanese ver.) photo shoot!
34. Monaco Bee Jacquard Jacket: $2,950 (SOLD OUT)
Who doesn't love a guy in a blazer?
35. Tiger Head HoldAll: $2650 (SOLD OUT)
Essential Gucci travel bag for our working man.
36. Aviator Glasses with Web: $400
I'm surprised that he can pull off these glasses so well! Lazy airport outfit
37. Snake Underknot Silk Tie: $200
He is looking like a businessman making his way through the airport.
38. Wide Band with Interlocking G Motif: $230
BTS wore Saint Laurent for the Billboard Music Awards, but V is a loyal Gucci supporter and paired his outfit with some Gucci accessories.
39. Denim Jacket with Embroideries: $2,100
Another fan gift! V wore this jacket while on tour in America!
Whew we did it! I'm Gucci'd out!
There are 39 items listed, but every day that goes by V will get more! The final cost is *drum roll please*…….. $65,503!!!
Most of his clothes are thanks to ARMY showering their favorite idol with gifts or borrowed from their company….but he's not complaining and neither are we! Our favorite Gucci model is making the world his runway.
Did you guess what he is missing?
It's a GUCCI BELT! Now now now, we understand he probably owns one, but we have not seen a picture of him wearing one. If you find one, send it our way!
V also doesn't just keep the Gucci love to himself. He is a Gucci giver.
#GUCCIBOY